In my bucket list, number 49 is: Spending the night in an airport.
And if I'm about to pursue it, might as well make the memorable experience in the best airport in the world, 5 TIMES consecutively, right?
Yes, Changi Airport is FTW!
I've heard about the beauty and sophisticated design of this airport since a long time ago. In fact, my company is its Public Relations Consultant for Indonesia. I guess it's about time I finally got my chances to spend overnight in Changi Airport. It was one of the best highlight from my trip to Hong Kong. I had flight layover in Singapore for around 8 hours. So, let's make the most of your time in Changi! Here are 10 things to do on your transit here:
1. Watch a movie, of course!
When I first found out that Changi Airport has a free 24-hour cinema, I couldn't believe it myself. I mean, are they even serious? Right after I got out from the baggage claim, that's my destination: to see and prove that there is an operating cinema inside the airport. And it turns out to be a super-comfy one, too! Many box office movies are played according to the schedule. It's your must-visit!
2. Get a free massage, you deserve it!

After a several hours flight, I know you're tired and just need some proper relaxing time. Worry not, because Changi Airport even provides you with the massaging chairs. Once again, FOR FREE! I couldn't stress how grateful I am for these. After walking around this giant airport, you can relax and feel the messaging chair brings back energy to you.
3. Visit the Sunflower Garden
Located right beside the cinema in Terminal 2, you'd be seeing a sunflower garden. Although I arrived at night, the flowers still blossom and looked really beautiful. Plus, visiting the Sunflower Garden at night will save you from the excruciating heat and the sweats, right?
4. Watch your favorite sport in Experience Zone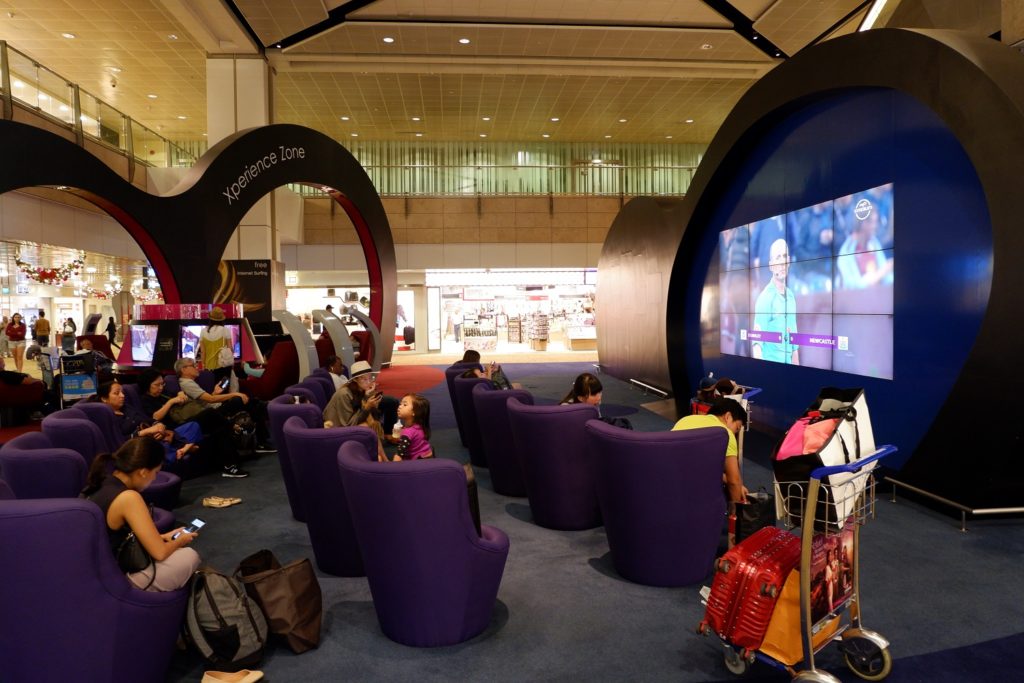 For those of you who love watching football matches, golf, racing, tennis, or whatever it is, Changi Airport got you covered! You can go to Experience Zone and watch the match in a giant screen and a comfy bench. The bench was so comfortable, I think I fell asleep for a minute there. It's also a good place for you to crash while waiting for your next flight.
5. Stroll around their (many) beautiful indoor gardens

One of the reasons why Changi Airport is deemed as the best airport in the world is probably because it merges the element of modernity, technology, culture, and nature, all beautifully. I mean, you can see some of the finest work of art and indoor gardens in this air-conditioned airport. Everything is green, colorful, and zen. They even have a Koi fish-pond right in the middle of the room! Strolling from one garden into another, you will forget that you're walking inside an airport instead of a mini-city on its own.
6. Play your games at the Gaming Zone

Okay, I admit that I haven't traveled the world that far. But for me, seeing Changi Airport has a gaming zone is so impressive! You want to play PS 3, PS 4, XBOX, Nintendo Wii, or even online gaming in PC? Everything is there for you to try! If only I'm not that horrible in games, I would definitely try it. But the Gaming Zone will really make your transit time fun with no boredom whatsoever!
7. Explore the culinary stalls

Some airports don't even have a proper security and F&B options at night. But this is not the case in Changi Airport, because when I arrived at midnight, all of their culinary stalls are still open! And you know what? The options are endless! It's like a food court in the mall, where you can find junk food, franchise restaurants, to local crave like laksa and nasi lemak. Restore your energy with the culinary delight!
8. Stay connected with all-around Wi-Fi
Since you have layover, it might be a good time to update your status, let your loved ones updated, or even finish up some business documents before you take off again? In Changi Airport, you can easily stay connected through all-around Wi-Fi. It is free for public, but you have to register first in the information booth. They will scan your passport and give you the pass code that is valid for around three hours. I guess if your time is up, you can always ask for more.
9. Sleep safe and sound in Snooze Longue

Sleeping is the important part. Very, very important part. And for that, Changi Airport also provides you with the Snooze Longue, a dedicated-area with ergonomic chairs to help you gain some energy before the new day. It's so quiet, and on your chair side there is a electric socket to charge your gadgets. What else could you ask for?
10. Shop till you drop
If you're not tired, you're not hungry, you're not a fan of sport or a fan of gaming. If you're not in the mood for gardens and movies, well there's only one thing left: shopping therapy! Yes, the perks of spending overnight in Changi Airport is, you get to shop your favorite branded stuffs, duty-free. Prepare extra SGDs to buy liquor, perfume, chocolates, gadgets, and even your make-up kits.
See? If your transit is in Changi Airport, you don't have to worry. Really.
This place is a destination of its own. I, for one, am willing to spend overnight in Changi, all over again. There's just so many stuffs to do, so many interesting things to see. You will not get bored and frustrated. Quiet the contrary, you might even feel a bit sad when it's time to enter the boarding room and say good bye to the Changi Airport! 😉